I finally got my mitts on a copy of
Preggers Can't Be Choosers
by the legendary duo of
Lexington and Whatevski
. After seeing their music video for the "hit single"
Shotgun a Beer
I was pretty pumped for this release but I only managed to get a copy two days ago (and I blame myself for that). It was worth the wait.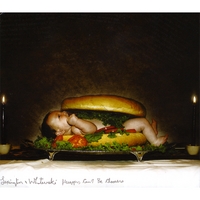 I've only listened to it once all the way through but I've got good words to say about it already:
The vast majority of the album kicks ass. The rapping is wicked, especially on tracks like
Lexington's Brain
and
Shotgun a Beer
. The production is fresh, and for whatever reason they're dropping more danceable tracks (hear
Fireworks in a Lightning Storm
). I preferred the production on Customer Appreciation Day but this is certainly good as well, it's just different. And it's also got an incredible verse by returning guest
Hollohan aka God
, who spits the most insane rhymes in
The Blood Letting
. Overall, I could have used a little less interlude stuff and more rapping but it's definitely not a CD you should pass up. If you liked CAD (and if you haven't heard it, you can get it
HERE
), then you'll like this one.
Keep it up you two, I'm waiting for the California tour!
You can find the album
HERE on CDBaby!